Bhutan tour Highlights
Bhutan and Nepal tour: Spectacular tour in Everest country Nepal and tour of the Buddhist Dragon Kingdom Bhutan Drukyul - the last shangri-la on earth!. See the wildlife of Chitwan National Park, one of the finest NP in Asia with Kathmandu valley
Includes : Hotel, internal flight, full board tour in Bhutan and Chitwan . Sightseeing of world heritage sites, transport.
Why travel with us (EBE)?

Departure Dates 2011
The Bhutan tour is also available on a private basis to suit your own dates, through-out the year Even you are just 1 or 2 person in the team.
Ask us for details
The Nepal and Bhutan tour also can be combined with India tour Taj Mahal, Jaipur etc or Sikkim Darjeeling, Tibet tour can be combined with Bhuan tour.
The Buddhist curcuit tour of Ajanta Elora caves, Boudhgaya, Kushinagar, Lumbini, Sarnath can be combined with Bhutan tour as Buddhist pilgrimage tour.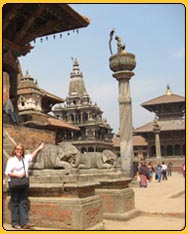 Patan Durbar square - Kathmandu
Glimpse of Nepal and Bhutan tour - 12 days
( Best way to enjoy Nepal & Bhutan at one go!)
Trip Profile

12 days Nepal and bhutan tour - The last Shangri-la on earth!

3 night 4 days in Kathmandu valley with, excursions of UNESCO world heritage sites

4 night 5 days in Bhutan, sightseeing ( Thimpu , Paro, Punakha valley with the Tiger's Nest - Taksakang monastry)

2 night 3 days Jungle safari - in search of one horned Rhino & Royal Bengal Tiger! Nepal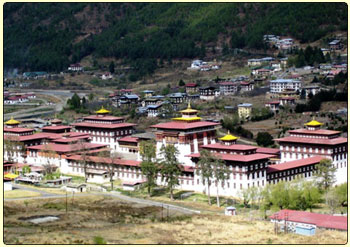 This glimpse of Nepal and Bhutan tour is something different combined with elephant ride in the jungle and a relaxing way to view the mountains in Nepal and view culture, mountain with the monasteries of the Bhutan! After doing very interesting sightseeing in Kathmandu valley, we will drive you to the ideal hill stations named Nagarkot or Dhulikhel for something different taste. Here you will be enjoying your great moments with unbeatable mountain views and rural people's life style. Be privy to the unparalleled natural beauty and age-old cultures of the two remaining Himalayan Kingdoms, one Hindu and the other Buddhist. To give you the true Himalayan Experience we have combined two popular trips Nepal and Bhutan, starting from Kathmandu into the unique adventure to Bhutan. Visit Paro, Punakha valley, Tigers Nest Monastery and Thimpu to experience Bhutan - the last Shangri-la on earth! - an amezing place to be! kingdom in the sky! above the clouds...
From Kathmandu we drive to the jungle of Chitwan, an exciting environment where animals share the natural habitat with us ! Stay in a deluxe yet rustic lodge for both nights. We will spent some time relaxing along the Rapti river, enjoying a fascinating cultural show of the Tharu traditional dances, a jungle walk, elephant ride, rhino watching and a canoeing, bird-watching day trip.
Please hear from our clients who recently been to Nepal and Bhutan tour with us and how much they enjoyed it >>>, or even at trip advisor



Bhutan tour targeting some festivals also available
Join the Bumthang Festival at middle of Nov. each year .
In Bumthang festival of Bhutan at mid-night we take a walk to the Jambay Lhakhang and witness the festival where the dancers dance around the fire in naked and is said to be the most scared dance and the event of the beginning of the festival Evening witness "Jambay Lhakhang Drup"among the local people where there will be dances consisting of mask dances and folk songs by the local people. The festivals gives the opportunity to interact with the local people and you can immerse yourself with the locality of Bhutan.
Bhutan tour a greatest cultural adventure of a lifetime!!
---
12 days, Nepal and Bhutan Tour - kingdom in the sky - above the clouds
Day 01 :

Arrival day in Kathmandu , Nepal, check into hotel and rest.


Day 02 :

Full day sightseeing tour of Kathmandu valley and excursions to Nagarkot or Dhulikhel, Himalayan view point

Day 03 :

Back to Kathmandu, prepare for Bhutan tour

Day 04 - 08 :
Fly to Paro of Bhutan to start tour and back to Kathmandu ( Have to match with Bhutan flight schedule) Paro - Thimpu - Punakha valley, Tiger's nest
Day 09 - 10:

Drive to Chitwan National Park and enjoy Jungle Safari activities

Day 11 :

Drive or fly to Kathmandu, free in Kathmandu for shopping and bargain, evening Nepali cultural show and dinner

Day 12 :

Final Departure , transfer to airport.
---
Fact File: Nepal and Bhutan tour 12 days
Availability:
Every week through out the year how ever (July - Aug) is not recommended.
Price:
Please ask for the price.
Style:
Guided Bhutan trip
Grade:
Easy adventure, for all age people
Maximum elevation:
3050 Mtr only pass - go through Dha Chu la pass
Accommodation:

3 star level accomodations, comfortable resorts in Bhutan

Transport:
Car / Bus / Flight included
Meals included:
11 breakfasts, 8 lunches, 8 dinners
Note:

1 hour Mountain Experience flight around Mount Everest can be added at the cost of US$177 on day 2nd or on 11th day
---
Option
4 - 5 star hotels available in the cities, extra nights can be added at any point en route, fully supported camping trek, Tailor made itinerary available ask for full range of options, Bhutan tour can be combined with India tour, Sikkim darjeeling tour or Tibet tour.
Extra
Single supplement, travel & health insurance, international flight and visa cost, drinks, tips, airport tax, evacuation cost & the cost which is not mentioned above
For Further Information & to Book Glimpse of Bhutan and Nepal tour Please
Mail us