Kathmandu - Everest - Lhasa tour Highlights
On our Kathmandu to Lhasa overland Tibet tour via Everest Base camp we pass small Tibetan settlements, nomadic herdsmen wandering across the wide arid plains and awe-inspiring mountain peaks, this is one of the most cultured and wilderness tours on the Tibetan Plateau - The roof of the world! come join us for a journey of a life time!
___________________
Enjoy Monasteries of Tibet , Medieval Kathmandu, Journey to Everest Base Camp Tibet.
This is the classic overland journey to the roof of the world, from the temples of Kathmandu to the monasteries and stunning scenery of the Himalaya until Lhasa.

Reach to the base camp of the world's hightset peak Everest from China side, drive through one of the most picturesque highway in the world - Kathmandu to Lhasa overland drive!
Why travel with us (EBE)?

Departure Dates 2011
We have the following dates scheduled for this Kathmandu - Everest base camp Lhasa overland tour 2011, that are guaranteed to operate with a minimum of 4 persons in the group. The tour is also available on a private basis to suit your own dates. This is drive in fly out or Vice Versa.

Aug

1, 8, 15, 22, 29

Sept

5, 12, 19, 26

Oct

3, 10, 17, 31

Nov

7, 14, 21, 28

We have conformed group departure for April 11 and 30th, please

contact us

for more details

Bookings are open for 2010, Everest Base camp Tibet tour. Please

contact us

for details. The trip can be combined with trek in Nepal or with the highest train ride in the world Lhasa to Xi'an, beijing or Shanghai.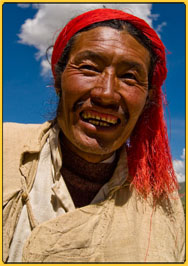 Kathmandu - Everest Base camp - Lhasa Tibet Tour - 13 days Overland Tibet tour
High Road to Tibet travel including Everest base camp in low price !



Monasteries of Tibet, Medieval Kathmandu, Journey to Everest Base Camp, Tibet, the exhilarating Tibet tour Lhasa Everest base camp - roof of the world!
Please hear from our clients how much they enjoyed Nepal & Tibet tour with us>>..


Trip Profile

13 days Everest Base camp tour - Tibet overland from Kathmandu
4 days in Kathmandu, sightseeing / excursion

09 nights in Tibet visit Everest base camp - Rongbuk

3 days in Lhasa city, sightseeing ( Tibet tour)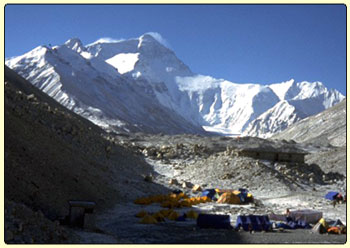 In our this Kathmandu Everest Lhasa overland tour :
Amazing views of the Himalaya and the Tibetan landscape greet you on the overland drive from Kathmandu to Lhasa (The most beautiful picturesque highway in the world to drive). En route, visit Everest base camp - Rongbuk monastry, Shigatse, the second largest city in Tibet, site of the Tashihunpo monastery. The seat of the Panchen Lamas, Tashihunpo is a vast complex with a golden rooftops and impressive chapels. Although having suffered the ravages of man and time, Gyantse, our next stop, with it's unique Palkor Chode temple and Kumbum Chorten, offers a glimpse of an irretrievably lost era in some of the most extraordinary works of art found in all Tibet.
The above picture is Everest - Base camp Rongphuk Tibet
- view of our Kathmandu to Lhasa overland tour via Everest base camp Tibet!
Take an exhilarating drive to Rombuk - 5000 mtr and a mere 7km below Everest Base Camp. The view from here is utterly spectacular! Rombuk ( Rongbuk) is certainly the highest monastery in the world and its guesthouse offers very basic accommodation, but the views that surround us more than compensate - lie in bed and watch the moonlight illuminate the mountain. The monastery here was first built in 1902 by the Nyingma Lama and originally housed more than 500 monks. Today, only about 50 monks and nuns remain, sharing the same prayer hall but with separate residences. The nuns here are great fun and will be delighted to have you join their evening prayers. The energetic can make the 7km hike to Base Camp for a closer view of this magnificent mountain, for the rest – pony carts are the go.
In the mystical capital of Lhasa, there is ample time to explore the former home of the Dalai Lama, Potala Palace, Tibet's world famous resplendent landmark with over 1,000 rooms and 10,000 shrines. There is also Jokhang, Tibet's holiest temple with its priceless statues and frescoes, and the Norbulinka, or Summer Place, from which the present Dalai Lama fled in 1959. Shoppers mustnt miss the Barkhor, the bustling bazaar of old Lhasa which is right on the pilgrim's circumambulating route around Jokhang. Laden with souvenirs and memories of Tibet, you fly back to Kathmandu from Lhasa in a mountain flight that treats you to close-up views of the mighty Himalayas. This adventure begins and ends with two days in Kathmandu, with plenty of time for discovering the city's many attractions.
An outline itinerary Kathmandu to Lhasa tour with Everest base camp
Day 01 :

Arrival day in Kathmandu, Nepal check into hotel and rest

Day 02 :

Full day sightseeing of Kathmandu Valley ( world heritage sights), it should be Monday, Wednesday or Friday ( pick up Tibet visa)

Day 03 :

Drive to Nepal - Tibet border and transfer to Tibet [Naylam]

Day 04 :

LO - TINGRI: Drive along the Bhote Koshi River through the Nyalam Pass. Excellent views of mountains along the way. O/N at Hotel.

Day 05 :
RONGBOK: Early morning drive to Rongbok, by Land cruiser. O/N at Guest house / or at rongbuk monastry .
Day 06 :

Everest Base Camp excursion, from here the true grandeur of Everest's sheer north face is visible. Overnight in Monastery or guest house.

Day 07 :

XIGATSE: We drive to Xigatse city, the house of the famous Tashi Lhunpo Monastery, the seat of the Panchen Lama until his death in 1989. O/N at Hotel.

Day 08 :

GYANTSE: After a morning visit to the Tashi Lhunpo Monastery, a short two hours drive to Gyantse, a small town that once served as the capital of a small kingdom. O/N at Hotel.

Day 09 :

LHASA: A scenic drive through the Karo La Pass and Kamba La Pass with a very good views of the Yamdrok Tso Lake. Then you cross the mighty Brahmmaputra River to arrive in Lhasa. O / N at Hotel.

Day 10 - 11 :

LHASA: 2 days Sightseeing and excursion of the Potala Palace, the Jokhang Temple, surroundings of Bharkhor Market, Derapung and Sera Monasteries. O / N at Hotel.

Day 12 :

Fly back to Katmandu from Lhasa, free time and evening join Nepali dinner & cultural show
[You have option to fly Chengdu or take train to Beijing or Xi'an of China]

Day 13 :

Final departure , transfer to airport to fly to Kathmandu, Chengdu or take a train to Beijing or Xi'an.
---
Fact File: Kathmandu - Everest base camp - Lhasa , Tibet overland tour
Availability:

Every week from April to Nov (weather permitted)

Price:

Please ask for the price.

Style:

Guided trip

Grade:

Moderate - drive

Maximum elevation:

5200 mtr

Accommodation:

Tourist class standard Hotels included

Transport:

Jeep / Car / Bus / Flight included

Note:

Group joining basis trip, departure every Saturday and Tuesday except special one

Meals:

13 breakfasts, 1 dinner
---
Options
4 - 5 star hotels available in the cities, extra nights can be added at any point en route. Trips available combine with holy Mt. Kailash Mansaovar, Ganden or Samye trek and tour, Namtso Lake. Tailor made itinerary available, ask for full range of options, have option to take train to Beijing or Xi'an or flight to Chengdu, the highest train ride in the world.
We also have tour of Everest advance base camp, 3 base camp tour in Tibet, Lakpa Ri expeditions in Tibet.
We have Everest base camp trek of 18 days in Nepal, please click here if you are interested.
Extra

Single supplement, travel& health insurance, international flight and visa cost, drinks, tips, airport tax, evacuation cost and the cost which is not mentioned above
Some information about Tibet Lhasa's most important sites : Our Kathmandu to Lhasa overland tour via Everest base camp covers this all.

The Potala Palace Tibet:
It is located north of the middle section of Beijing Road. Actually Lhasa is not a big city. It is sandwiched by two mountains from north side and south side. The Lhasa river rides over the city. So most part of the city is located on the flat land between the mountains. The Potala Palace is built on the high land uplifting of the flat land. The palace climbing was a tough job! The palace is 115.703 meters high. People have to walked step by step to the top. The Potala Palace was built at the time of Songtsan Ganmpo in the 7th century. In the 17th century the 5th Dalai Lama extended the palace to its present size. At this time, it became Dalai Lama's living and working place. He first combined the Religion and the politics, unifying the Tibet to its greatest extent. The main construction is divided into two parts: red and white palaces. It include living quarters, temples, funerals supas and monk dormotories. The countless cultural relics in the palace are of priceless value.

The Jokhang Temple:
To people's surprise, there are always a great number of local Tibetan people around it there. They either pray with hands and knees touching the ground or walking around the Jokhang Temple. Walking around the Jokhang Temple is said that it can bring prosperity and peace to one's whole life. Most of them come from the remote villages or mountainous areas. They come here once a year.

The Jokhang Temple
was first built by King Songtsem Gampo (617 – 650). He was the 33rd king of Tibet. He was the leader of the Tubo (or Tibetan) Kingdom. He actively promoted Buddhism in Tibet. During his reign, Tibet achieved great progress in social innovation and realized the integration of Tibet for the first time. Before he built the Jokhang Temple, he had built the Little Jokhang Temple for one of his two wives -- Princess Wen Cheng who came from the Tang Dynasty. His another wife was Princess Bhrikuti of Nepal. Jealous of her, Princess Burikuti asked Gampo to construct a Jokhang for her as well. Therefore, in 647 the big temple was built. Later it was repaired and expanded many times in Ming ande Qing dynasties. After visiting the Jokhang Temple, people usually also walk around the temple along the famous Barkgor Street.

Barkhor Street:
The Barkhor is the oldest street in Lhasa as well as the center of old Lhasa and remains very traditional. It is a place where Tibetan culture, economy, religion and arts are assembled. Walking around the Jokhang Temple is said that it can bring prosperity and peace to one's whole life. The street is lined with huge numbers of shops selling various kinds of tourist stuff with Tibetan style - skybeads and much more.

Sera Monastery:
It is built on the slope of the Tatipu Mountain. It was named "Sera" due to the fact that lot of roses were once found on the mountains. "Sera" in Tibetan Language means"rose". It has an assembley hall. three collegea. Sera is most famous for lamas debating activity each afternoon from 3:000pm. The Sera Monastery is dedicated to the Gelugpa or Yellow Hat Sect, a branch of Tibetan Buddhism, founded by Tsong Khapa. Jamchen Chojey, one of Tsong Khapa's disciples built the monastery in 1419 during the Ming Dynasty (1368-1644). The Gelugpa or Yellow Hat Sect of Tibetan Buddhism studies Buddhist doctrines by using a slow but systemic process. As a part of their study, lamas must take part in debates to further their learning and get to more advanced levels of study. The debating traditions in the Sera Monastery are unique among the three famous monasteries in Lhasa. Debates are practised by the lamas in the monastery every day from 3.a.m. In a battle of words, they further their efforts by using a variety of gestures including clapping their hands, pushing their partners for an answer and more gestures.

For Further Information & to Book Kathmandu Lhasa Everest Tour Please
Mail us