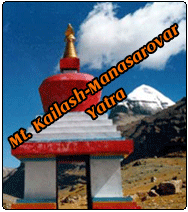 Selected Tours & Treks

Everest, Annapurna, Chit

Everest Panorama Trek

Annapurna C
i
rcuit Trek

Annapurna Panorama

Mustang Cultural Trek

Langtang valley Trek

Glimpse of India & Nepal

KTM - Everest - Lhasa
Is Nepal Safe for Travelling ? No doubt, it is totally 100 % safe :
There is an overwhelming peace and tranquillity that prevails throughout Nepal as the Peace accord is signed, Maiost are included in the Govt. The best way to experience Nepal is to live it, feel it and breathe it with locals. Nepal is for everyone, it is time to visit Nepal and help .
Interim Constitution promulgated for peace, prosperity and stability :
In an effort to bring long lasting peace and stability in Nepal, the House of Representatives (HoR) promulgated the interim constitution after day long discussions on January 15, 2007 dissolving the HoR and the upper chamber, National Assembly. The first meeting of interim parliament unanimously endorsed the Interim Constitution 2063. With the installing of the new interim constitution, a new unicameral parliament having 330 members has been formed with the 83 members from the CPN(Maoists). Also Maiost included in the Govt. This Govt. and Parliament has responsibility to hold the election of Constituent Assembly this year.
This is Nepal's sixth statute to have been promulgated by Nepal in the last six decade.
The promulgation of interim constitution formally ended a decade long conflict paving a way for permanent peace creating conducive environment for all kinds of economic activities including tourism. With the favourable atmosphere at the doorstep, the tourism industry of Nepal is bound to make progress rapidly. Recntly Hollywood superstar Richar Gare and Mr. President Jimmiy Crater visited Nepal.
Peace prevails, come to visit Nepal to enjoy it's beauty :
The much awaited Comprehensive Peace Accord (CPA) was signed between the government of Nepal and the Communist Party of Nepal(Maoists) on Tuesday evening, November 21, 2006 formally announcing an end to a decade -long armed insurgency what Maoists termed as "People's War". Prime Minister Girija Prasad Koirala and Chairman of Communist Party of Nepal(Maoists) Prachanda signed the historic Accord promising to chart a new destiny for "peaceful and democratic" new Nepal, and pledging for peaceful coexistence of all Nepali irrespective of caste, creed, religion and gender.
On behalf of Nepalese tourism industry, Nepal Tourism Board salutes all those in front and behind to make CPA a success. Over more than a half decade, Nepalese tourism industry has suffered severely due to conflicts at home and other untoward incidences that took place around the world. Since both the Government and Maoists have committed for free movement of tourists and all Nepali in any part of the country without hindrance, it will definitely provide a boost to ailing tourism industry of Nepal. The signing of CPA also put full stop to illegal donation collected by Maoists from trekkers in the different trekking routes. Now tourists can go anywhere in Nepal with any hiccup and hitch. Although not a single tourist had been targeted or harmed by the rebels during a decade-long insurgency, the conflict emanated wrong message to world about the safety and security situation of Nepal. With the ending of conflict, all tourism entrepreneurs have expressed their satisfaction and happiness in a hope that it will bring permanent peace in the country which is vital for the growth of tourism industry.
Signing of CPA has given a positive message to the world that Nepalese people are capable of resolving their own problem; and it has set an example in conflict resolution for the whole world. What until recently was dream of all Nepali and peace lovers has now become a reality. Nepalese tourism industry would like to thank all tourists and tourist generating countries for their generous and unwavering support to Nepal and its people. The people of Nepal would like to make a pledge to all tourists who had postponed their tour to Nepal due to various reasons to come and visit Nepal and see and experience its beauty, grandeur, culture, arcane temples and monasteries, mountains and jungles of Nepal. Nepalese people also would like to request all tourists to make a New Year Resolution for 2007 to visit Nepal as a life time experience.
By making the ceasefire permanent, the accord declares the armed insurgency that began since February, 1996 as officially over. Effective immediately, the CPA states that illegal carrying of weapons, their display and any kind of attack, threat, intimidation would, henceforth, be punishable by law.
Reiterating the commitment to hold the elections of CA by mid-June, 2007, the CPA prohibits all kinds of illegal use of weapons, raid, ambush, mining, aerial attack, abduction, etc. Within 30 days both the sides will share information regarding the placement of mines and within 60 days they all would be disabled, it states.
Meanwhile, a statement from the US Embassy in Kathmandu a short while later, welcoming the peace accord said, "The US Embassy welcomes the announcement of a comprehensive peace agreement between the Government of Nepal and the Maoists. We hope this step will place Nepal on the path of lasting peace and democracy. We want the peace process to work and we pledge our full support. We support an agreement that safeguards the aspirations of the Nepali people."
The statement further states, "This means violence, intimidation, and criminal acts -- such as forced recruitment of cadre and extortion -- must end. The Nepali people, who have lived in fear for 11 years, deserve a chance to live without fear and choose their form of government in fair elections."
"The United States is committed to help Nepal build a peaceful, prosperous, and democratic future for its people," the statement said.
Following the US statement, a statement by Ian Martin in Nepal, Personal Representative of the UN Secretary-General in Nepal said, "It is a privilege to have been present at the signing of the Comprehensive Peace Agreement, marking another key step forward in the peace process. When Secretary-General Kofi Annan heartily welcomed the agreement of 8 November between the Seven Party Alliance and the CPN-M, he called it a historic opportunity for the people of Nepal to end the armed conflict and to build sustainable peace within an inclusive and democratic state. Now today's Agreement promises to convert the ceasefire into long-term peace. Those involved on both sides are to be congratulated for their hard work in finalising an Agreement which is entirely a Nepali achievement."
"The Secretary-General has said that he intends to move promptly to respond to the request to the United Nations to help in key areas of the peace process. I am pleased to say that my Office is working in an excellent spirit of collaboration with the Government and the CPN-M on these areas, and today we have completed agreement on the locations of seven divisional PLA cantonment sites. With the Comprehensive Peace Agreement now signed, I hope that we will quickly be able to reach tripartite agreement on the full modalities for the management of arms and armies, clarifying essential details regarding confinement to cantonments and restriction to barracks, weapons storage, permitted and prohibited activities, and monitoring arrangements. The United Nations will then be able to move forward with its planning to deploy monitors and other personnel. I also look forward to discussing how the United Nations' role in the other areas requested, of human rights monitoring, assisting independent national monitoring, and electoral assistance and monitoring, can help to create the climate of multi-party democracy and pluralism throughout the districts and villages of Nepal which is essential for the free and fair Constituent Assembly election to which the parties have committed themselves," the statement further reads.
Earthbound Expeditions is proud to be partial sponsor of 6 days Annapurna trek from Feb 19 – 24th, 2006, for http://www.overland-underwater.com, a charity drive from UK to NZ in aid of CARE International. They enjoyed it very much with us. We wish for successful journey ahead for them. The Ambassadors says Nepal is safe to travel / trek see the news of May 16 & 17, 2005 the Rising Nepal ( the newspaper cuttings available on request)
On Dec 17, 2005, 2 famous trekker's Mr. Jacques - Cordola 62 and Rene - Tomio 56 from France trekked all the base camps of 8,000 meters Dhaulagiri to Kanchanjungha and said Nepal is totally safe for trekker's and mountaineers.

The UK Ambassador said in the past:
"The fact remains that not a single foreigner has been kidnapped or killed as a result of the eight-year-old insurgency. During that time, the country has received more than three million visitors. The risk of being a victim of Maoist violence is clearly much lower than the risks of going trekking, mountaineering, rafting, or simply going in a bus," said Keith Bloomfield, 57, the British Ambassador to Nepal. "The threat is fairly small." Kathmandu is functioning ormally, indeed the situation looks more stable and better than for the last 6 years. I can see no reason for anybody to cancel their Nepal - Tibet travel plans.
Ms. Shelly Brown from Australia found everything normal in Nepal. She said she was here to enjoy enchanting beauty of Nepal, and she did it without being disturbed by internal and external sequence of events.

Mr. Lucas Berkuems, a Belgian who has traveled more than 25 countries in his bicycle entered Nepal in the first week of February from Bhairawa. He said: "My trip to Nepal is quite enjoyable and memorable. I did not face any problem in Chitwan and Pokhara. I will get back to Nepal again soon for trekking to Annapurna Region." He is now in Langtang savouring the pristine beauty of Himalayas. As by the travel update news by NTB,
www.welcomenepl.com
Nepal, as with most of its neighboring countries, continue to be, not only one of the world's best travel values, but a safe one as well. Nepalese are peaceful and tolerant people, comprised mainly of Buddhists and Hindu. It is safe as decade-long political unrest is solved , we invite you to take this great opportunity to enjoy lower prices and fewer crowds.

Safety and Security Advice:
The situation in Nepal has always been tourist friendly. Major tourist places like Kathmandu, Nagarkot, Dhulikhel, Pokhara, Chitwan, Lumbini, Annapurna, Langtang, Everest continue to welcome tourists in large numbers. Tourists have never been directly targeted by the Maoists. Hence, tourists have never been the victims of insurgency activities in Nepal. Travel to and within Nepal is a safe and enjoyable experience. Tourists are advised to use the services of registered and reputed travel and trekking companies and hotels only. By using the services of government registered service providers, you will be ensuring the most comfortable and reliable holiday possible.

Public demonstrations and strikes are popular forms of political expression in Nepal, as in other parts of the world and they may occur on short notice. These demonstrations are usually nonviolent and not directed towards foreigners. During general strikes (called "Bandh" in Nepal), many businesses close, and transportation and city services may be disrupted. Tourist buses, airport downtown-airport shuttle service and rickshaws are the only means of transportation available during bandhs. Travelers are requested to stay either at their hotel or homes or at the most in prominent touristic areas such as Thamel, King's way etc. where no any untoward incidents have taken place, so far. Tourists can also visit places of tourist interest within walking distance from their hotels.

Introduction:
Nepal is one of the richest countries in the world in terms of bio-diversity due to its unique geographical position and latitudinal variation. This wild variation fosters an incredible variety of ecosystems, the greatest mountain range on earth, thick tropical jungles teeming with a wealth of wildlife, thundering rivers, forested hills and frozen valleys. It has extensive tourist facilities, which vary in quality according to price and location. Tourism has been a major source of foreign currency earning and also a major contributor to our national economy.

Entry and Exit Requirements:
A passport and visa are required for visitors other than Indian nationals. Tourist visas can be purchased upon arrival at Tribhuvan International Airport in Kathmandu and at all other ports of entry. All foreigners must pay an airport exit tax, regardless of the length of their stay. Travelers may contact nearest Royal Nepalese Embassy/Consulates for further information.
Indian nationals do not require visa. However, effective from October 1, 2000 Indians travelling to Nepal by air will have to show upon arrival at entry point either a passport, voter's identity card issued by Election Commission of India, or an identity card with photograph issued by the Central or State Government of India. Children under 10 years need not show any identification.

Information for Travelers:
Nepal has abundance of offers to establish it as a round the year travel destination. Based on this fact, many international tourists are indeed incorporating Nepal in their wishful travel itinerary. Popular tourist areas in Nepal like Kathmandu, Pokhara, Chitwan, Everest Region, Annapurna Region, Langtang Region, Lumbini, Janakpur and others are absolutely free from any sorts of disturbances. This is a clear testimony that travel safety in Nepal is more a perception problem than the actual state of affairs. Nepal Tourism Board (NTB) always recommends travelers to get services through the registered companies which guarantee you safe, reliable, standard and value for money travel services.

Travelling in Nepal typically involves walking for an extended time over rugged, steep terrain, to various luxurious stays during the course of their trip. Many popular trekking routes in Nepal cross passes as high as 18,000 feet. The Nepal Tourism Board requests all existing and potential travelers to exercise extreme caution while trekking at higher altitudes. The safest option for all trekkers is to join an organized group and/or use a reputable firm that provides an experienced guide and porter who communicates in both Nepali and English.

Medical Facilities:
Medical care is widely available in the District head quarters and the towns and cities. Moreover, Kathmandu has the most modern medi-care facilities, equipment and most qualified doctors in order to provide a quality care. Serious illnesses often require evacuation to the nearest adequate medical facility. Illnesses and injuries suffered while on trek in remote areas often require rescue by helicopter. Various private Helicopter Companies including the Royal Nepal Army (at the Airport) provide rescue services. The cost is typically not much. For further information, please contact Himalayan Rescue Association (Phone: 262746, Kathmandu) or your local travel or trekking agent.

Medical Insurance:
After the establishment of various international Insurance Companies in the form of joint venture (JV), medical insurance is becoming popular in Nepal. Hence, all travelers are requested to insure through the reputed agencies. However, travelling within Nepal is adequately safe except in some remote government cautioned areas. Please check with your own insurance company to confirm whether your policy applies overseas, including provision for medical evacuation, and for adequacy of coverage. Supplemental health insurance that specifically covers overseas treatment and air evacuation to the nearest adequate medical facility is strongly recommended.

TRAFFIC SAFETY AND ROAD CONDITIONS:
In major tourist destinations the condition of the Roads are fairly well maintained. Those travelling by their own vehicles must carry valid road maps. The East West Highway connects all major cities and towns. Further information may be sought from NTB or local agents. The accident rate in Nepal is comparatively very minimal and relatively fatalities from such accidents are rare as compared to other big cities of the globe. Likewise, there are several domestic private airlines operating within the nation, which has tremendously helped to connect the remote part of the country to the capital.

AIR TRAVEL:
Travelling to Nepal by air is considered safe. Nepal is well connected by a dozen of international airlines from all major cities of Europe and Asia (flight Schedule). It also has a fair no of domestic airlines, which cater to the needs of the travelers domestically. Tribhuvan International Airport (TIA) infrastructures have been duly extended in order to meet the rising demand of the air travelers.

Customs Regulations:
All travelers are requested to abide by the custom regulations of Nepal. The facilities that are given to travelers are of international norms except in the cases of heavy-duty import such as valuable metals, articles of archeological and religious importance, wildlife and related articles, drugs, arms and ammunition, and communications equipment.

Environment:
Government of Nepal is very conscious about maintaining the ecological balance. The preservation of the natural resources and conservation of the national heritages has been our prime concern. In order to give a fillip to this concept, Government of Nepal has already brought in to effect the emission control norms for the vehicles. Similarly Government of Nepal is coordinating with various experts, donors, INGOs and NGOs and others to manage the Solid waste management and also controlling the effluents discharged by the industries. As far as conservation and preservation is concerned, Annapurna Conservation (ACAP) area and Nepal's densely populated forests are greatly appreciated models in the world.

Questions?
If you still have questions regarding travel to Nepal and surrounding areas, please do not hesitate to contact us for up to the minute information, or visit the U.S. Department of State's Travel Advisory page for Nepal at http://travel.state.gov/nepal_announce.html
For Further Information on Nepal travel plans, Please
Mail Us